FETAL BOVINE SERUM US ORIGIN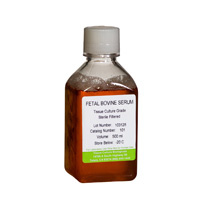 Fetal Bovine Serum or FBS is aseptically collected by cardiac puncture closed system, in the United States. Tissue Culture Biologicals is one of the few serum companies that collect and process Fetal Bovine Blood directly at the abattoirs. All fetal bovine serum products are obtained in approved abattoirs from cattle that have been tested to be free from disease. All bovine serum lots are viral tested as per 9CFR 113-53. Serum is endotoxin, mycoplasma screened and selected for its ability to support growth of a wide range of cell culture by the harvest to plant ratio method.
Hemoglobin content <15 mg/dL. Endotoxin level < 2 EU/mL.
Triple 0.1µ aseptically filtered, Fetal Bovine Serum is available in any size container as per customer request.
Bottle sizes in stock are 50mL, 100mL, 500mL, and 1L.
Lot sizes available up to 1,500 liters.
Tissue Culture Biologicals passed USDA inspections and are authorized for shipment into the EU countries.
Also available in Heat Inactivated see catalog 101 HI.
Call Today to Order Fetal Bovine Serum at 559-688-0018 or 800-845-1445 Catalog Number: 101
Or click here to Order Online