SPECIALTY TREATED SERA, FETAL BOVINE SERUM
GAMMA RADIATION
All gamma irradiated sera receive a dose of 2.5±0.3 Mrad (25±3 KGrays) as suggested by the USDA. The serum is treated under contract at an approved ISO 9000 & GMP facility. This dosage has been shown to result in a 6 log clearance in potential bovine viral contaminates: BVD, IBR, and PI-3, except Parvoviridae. The serum is not retested after treatment.
CHARCOAL DEXTRAN
Protocol for Charcoal Dextran Treated Fetal Bovine Serum
The Dextran used is produced by Leuconostoc mesenteroides, strain number B-512 with an average M.W. of 60,000 – 90,000.
The Charcoal used is acid washed.
The process takes place at 4 – 8 degrees C, using 20 gms per L of charcoal, 1 gm per L Dextran and 0.15 M NaCl at 67 mL per L.
A hormone panel is done pre and post treatment with a target value of less than 0.2 ng per mL of progesterone.
DIALYZED
Dialyzed against normal saline using a 10,000 MW cut off membrane.
Glucose is continually monitored to ≤ 5 mg/dL.

HEAT INACTIVATION
Serum is heated in a water bath up to, and maintained at, a temperature of 56°C for 30 minutes in the bottle.
CUSTOM HEAT INACTIVATION
Customized temperature and times available on request.
FETAL BOVINE SERUM LOW IgG
This serum is processed from first trimester bovine fetuses only and and the immuno-gamma globulin (IgG) value reported.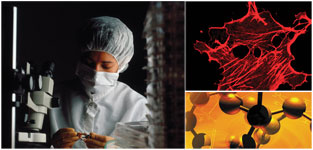 DELIPIDIZED
Charcoal is gradually added to the serum while slowly mixing. After continued mixing the serum is allowed to settle at 2-8°C, decanted, centrifuged and aseptically processed. No further testing is required.
IRON FORTIFIED
A solution of ferrous sulfate (FeSO4) in normal saline is slowly added to Formula Fed Bovine Calf Serum for a final concentration of 0.45 g FeSO4 per liter of serum. The volume of normal saline used to dissolve the FeSO4 is such that minimal dilution of the serum occurs. The serum is then aseptically processed. The serum iron content (µg/dL) is reported.